Lutheran Family Services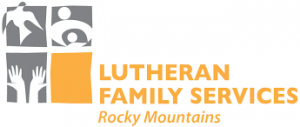 1. Each year in Colorado, thousands of kids are unable to live with their biological parents because of abuse or neglect. We need families who can provide temporary care until children reunify with their parent as well as families willing to adopt children and teens in foster care if they can't return to their families. An informal Q & A session for foster care will be held on Wednesday, May 9 from 12:30-1:30pm and from 5:30-6:30pm at the LFS Denver Metro office (363 S. Harlan Street, Suite 105, Denver, 80226). Please register with Anne at anne.hamilton@lfsrm.org or 303-217-5869. One-on-one meetings can also be arranged to work around your busy schedule.
2. The refugee program is a charity partner with the Colfax Marathon this year! The race will happen Saturday and Sunday, May 19 & 20. Interested in running or donating in support of other runners to raise awareness of refugees in our city? Simply choose Lutheran Family Services as your charity partner when you complete your race registration, and join the LFS staff as we #Run4Refugees in the 5k, Urban 10 Miler, Half Marathon, Full Marathon, and 5-Person Marathon Relay! For more information, to donate, or to register visit http://www.runcolfax.org/charity-partners/lutheran-family-services/ or contact Refugee Programs Volunteer & Community Relations Coordinator Kate Strebe at kate.strebe@lfsrm.org or 303-225-0199.
3. Consider making an impact in the life of an older adult in our community by donating an Access-a-Ride ticket book(s) from RTD! Many clients in our Older Adults and Caregiver Services program use Access-a-Ride to get to the grocery store, doctors' appointments, and other necessary errands and appointments. With a one-way trip costing $4.70 and a 5-ticket book costing $21.25, using this important resource adds up and our clients would appreciate your help. Ticket books may be donated to the LFS Denver Metro office (363 S. Harlan Street, Suite 200, Denver, CO 80226).
4. Are you passionate about helping those in need in our community? Do you love to play golf? LFS would love your help! The 24th Annual Golf Classic for Lutheran Family Services is happening on August 17 at the Hiwan Golf Club. If you would like to join the golf committee and help us plan this amazing tournament please contact Lauren Knudsen at Lauren.Knudsen@lfsrm.org
Katie Scherr
Church Relations and Development Assistant
Lutheran Family Services Rocky Mountains
363 S. Harlan, Suite 200 Denver, CO 80226-3552
Direct Line: 720-541-6826
Main Office: 303-922-3433
Fax: 303-922-7335
www.lfsrm.org