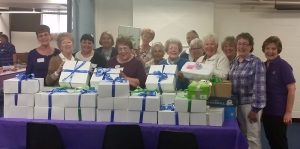 The North Central Zone LWML Spring Workshop is pictured  at Gethsemane Lutheran, Northglenn, CO.  On April 22,2017 Sue Hart, DCE, Ministry Consultant for Bethesda Lutheran Communities presented the program on including people of all abilities in our churches and the programs available for special needs people at Bethesda Communities.
The ladies of LWML who attended the Spring Workshop packed 33 birthday boxes with cake mix, frosting, candles, plates, napkins, other goodies, a Thrivent shirt and $10 gift card.  A Thrivent Action Team Grant was utilized for the project. The birthday boxes will be given to residents of Bethesda in Colorado to help celebrate their birthdays.
Pastor Tim Lindeman gave the Bible study on the workshop theme; The King will answer, "Whenever you did it for any of My people you did it for Me" Matthew 25:40.
The Ladies from Gethsemane  Served breakfast goodies and a beautiful Salad Luncheon.  A Craft fair was with a variety of handmade items for sale, was sponsored by the Ladies of the Bethesda Auxiliary.