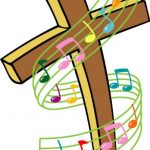 The Lutheran Chorale invites you to join us for "A Timeless Message, By Grace You Have Been Saved" on Sunday, May 7, 2017.
At this final concert of our season not only do we perform many of the songs we love to sing – including, "Give me Jesus", Ferguson's "Jesus Loves Me", "Here I am, Lord", "The Lord is My Shepherd" from the Rutter Requiem and "How Lovely is Thy Dwelling Place" from the Brahms Requiem, but also include a tribute to those who 40 years ago envisioned and established The Lutheran Chorale.
We will be having 2 concerts: Peace Lutheran Church 5675 Field Street, Arvada at 3:00 pm and King of Glory Lutheran Church, 10001 W 58th Street, Arvada, 7:00 pm.  We do not sell tickets, but will appreciate your support in free will offering.
For more information or questions, visit our website at www.thelutheranchorale.org, or email thelutheranchorale@comcast.net, or phone, Linda Thompson 303-666-6642.