ON HOLD DUE TO COVID RESTRICTIONS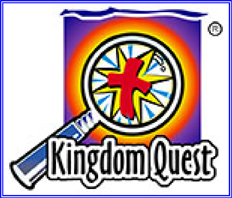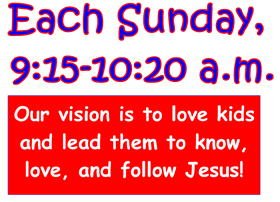 We want to give kids an opportunity to experience Jesus! This is no ordinary Sunday School! It offers solid Biblical learning through extraordinary creativity and fun.  The goal is to experience the love of Jesus in such a way that a child will love God with their whole person:  heart, soul, mind and strength.  Every lesson centers on Jesus using many creative activities, as well as games, snacks, etc…
Each week our program is led by a number of willing volunteers who work as puppeteers, presenters, and shepherds, leading our children to know, love, and follow Jesus! Won't you join us for this life altering curriculum that gives children real, unchanging hope?
Please check below for the ways in which each age group spends their time Sunday mornings.
2 to 3 Year Olds
10 – 15 minutes: Transition time and Puppet Presentation in a large group in Room 104.
30 – 40 minutes: Bible Event followed by activities (craft, game, snack) in small groups.
5 – 10 minutes: Review the Take Home Point, pray, and sing in the large group.
4 to 5 Year Olds
15 – 20 minutes: Puppet presentation and Bible Event in a large group in the Gathering Room.
30 minutes: Small group activities (craft, snack, game, and prayer) to reinforce the lesson.
10 minutes: Review the Bible point with our favorite puppet "Albie" in the Gathering Room.
Grades 1 – 4
15 minutes: Opening small group activity in classrooms 106/108 and 104 in the Education Wing.
20 – 30 minutes: In the Gathering Room, large group presentation of the Bible event using puppets, drama, or video.
20 minutes: Back in the classrooms, small group application discussing the Bible event and prayer time.
Grades 5 – 6
15 minutes: Small group warm up activity with leaders in the lower lever Room A.
20 – 30 minutes: Large group Bible event using a group game or activity, video or drama.
20 – 25 minutes: Small groups discuss lesson.
For any questions please contact Bethany Wood (email or phone at 303-424-4454)