Donofrio Mission Eurasia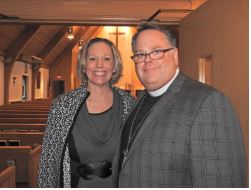 Dear friends in Christ,
Greetings to you in the name of our Savior, Jesus Christ.
The Lord is my rock and my fortress and my deliverer, my God, my rock, in whom I take refuge, my shield, and the horn of my salvation, my stronghold. – Psalm 18:2
If you have been financially supporting our Mission Work in Eurasia, you have likely received notice that Paula and I are no longer serving as missionaries. We are sad over this turn of events, but we know that the Lord's will is done with or without our consent, so blessed be the name of our Lord!
I want to take a moment and personally thank you for supporting us both financially and with your prayers. Paula and I have been humbled and encouraged by hundreds of financial donors and thousands who supported us in prayer and encouragement. Whereas we are sad that our Mission work has come to an end, we rejoice in the love and graciousness that you have shown us.
Now it seems our service has taken on a different direction, but we will, by God's grace, continue to serve the Church: I as a parish pastor and Paula as a layperson and a musician.
We don't know where the Lord will call us to serve next, but we know that wherever it will be, He will continue to bless us with His mercies and His love.  So, we wait on our Lord for His calling to a church which we can love and serve with joy.
Words cannot express our gratitude for you and your kindness toward us.
May our Savior, Jesus Christ guide and guard your heart and mind to life everlasting.
Your Brother in Christ's Service,
Pastor Craig Donofrio