Hands of the Carpenter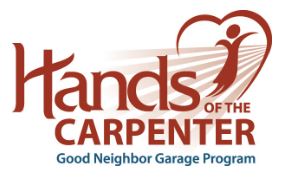 March 26, 2021
Dear friends,
Greetings, we hope this letter finds you healthy and in good spirits. As native Coloradans, we know that more needed snow could still be coming, but also that there are warmer days ahead! This is the time of year to celebrate Hands' successes of the past year while fully moving forward in anticipation of who we will get to serve in 2021. We might be looking forward to 2021 more than any years in the past. It truly was an honor, as a staff and as a Hands community, to be here as a source of help and hope for single mothers during 2020. All of us, especially the women, have been on a dark and stormy highway called COVID-19. For 197 women served in 2020, Hands was like a gas station appearing in the distance just as the "get gas now" light came on. Those women needed the hope offered and Hands' work on their cars to get work and protect their children. How many more are out there needing Hands services and support?
In 2019, there were a total of 236,496 Jeffco households. Of those, 13.8% (32,636) were led by a single mother, many of whom had limited incomes and significant childcare and housing expenses. Hands serves those mothers for whom a car repair could lead to financial disaster. A recent survey of Jeffco residents reported,
"financially vulnerable residents, especially those in or near poverty, often delay or cannot make needed car repairs in order to pay their housing costs or other bills. Once their vehicle becomes unusable or unreliable, these residents begin to experience employment impacts (e.g., missing work, losing jobs), miss health care appointments and human service appointments, and have increased difficulty maintaining or reaching self-sufficiency."
In recent months we've highlighted in our Storytimes some of those women, including Soraya who is completing her business degree and Evangeline who will not have to take the bus to Aurora anymore for work; both caring for their children. There are so many more families such as these out there in Jefferson County and beyond. We need to expand our reach because they need us to do so.
We need your wisdom, support, and prayers. Please join us for a short virtual gathering of the Hands community of Champions on Thursday, April 8th at 7:00 p.m. (time to be finalized) During this 30-45 minute meeting we will share with you Hands' plans to serve more single mothers across a greater portion of the Denver region in the coming years, beginning with an expansion to the North metro area in 2021 (Broomfield and portions of east Boulder and west Adams counties)
Your engagement with Hands has been vital. Each check, car donation, volunteer, and connection to others contributes to the clients' success. This work could not be accomplished without the resources provided by each person, foundation, church, business and civic group that is part of the Hands community of Champions. We are personally grateful for you and your generosity. We truly hope you can give a few moments of your time on April 8th for this important conversation. I am certain you might have an important "piece of the puzzle" that will make Hands growth possible.
Please RSVP today by sending an email to Daniel at daniel.mondragon@ehands.org. He will confirm your reservation and will send the link to join the April 8th gathering on TEAMS a couple days before. Thank you – We are grateful to be engaged in Hands automotive services work with you. Together we are making it possible for working single moms to navigate all the dark and stormy roads they face.
Blessings,
Dan Georgopulos                                                                     Daniel Mondragon
Founder/CEO                                                                            Resource Development Director
P.S. We will be joined by a special guest from the Denver Broncos.