Hatton Missionary Update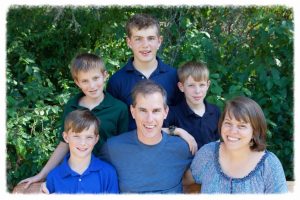 December 2017
As Christmas nears, I'm once again finding comfort and encouragement in the fact that Jesus is Emmanuel–God with us. And in the fact that it was not only true 2000 years ago when Jesus lived as a man in Judah. It is still true, as Jesus lives in the hearts of his followers through the Holy Spirit. He did not leave us as "orphans" (John 14:18) and indeed keeps his promise found in Matthew 28: 20 to be with us always. God is yet living among humankind…just now it is in and through Jesus' modern day disciples who are filled with his Spirit.
John got to represent Jesus at a workshop in Portugal in October among a group of academic linguistics from many countries who use some of the software he's designed (SayMore). They'd payed for him to join them in discussing what new software is needed for the task of investigating minority languages. Our organization's professional reputation among such people is important in opening doors in some countries. Over the course of a couple days John had several opportunities to talk about our what drives us, challenging their assumptions about how a follower of Christ thinks and acts. Pray with us that God will work in their hearts and lives to make himself known.
Prayer & Praise Requests:
For wisdom and faithfulness in responding to the various opportunities that come up for John and his team to represent Christ to those who do not know him as people outside of Wycliffe and other Christian organizations use their software.
For ongoing guidance in setting the software team's priorities as they responds to users' requests and needs.
For our sons and their well-being…as of Dec 7, we have 4 teenagers! Pray especially for William who is valiantly struggling to overcome anxiety issues.
For God's grace to us as He continues to make us more like Jesus in and through the challenges and opportunities that come our way.
We are so blessed by all of you and your support of us and our ministry with Wycliffe. We're happy to report that for this past year we've had full financial support. Keep praying! Thank you to all of you who've made that possible through your gifts and/or prayers.
Merry Christmas to all of you!
Grace & peace,
John & Suzanne Hatton
To give by mail:
Wycliffe Bible Translators
P.O. Box 628200
Orlando, FL 32862-8200
Tax deductible gifts can be made out to Wycliffe Bible Translators and sent with a separate note stating "Preference for the ministry of John and Suzanne Hatton.