John & Suzie Hatton update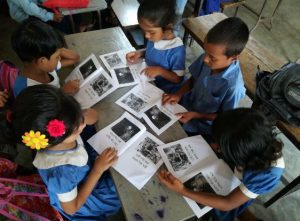 Summer 2017
Dear Friends,
At the moment I'm grateful for common grace—God's goodness given to all humanity. More specifically, I'm grateful to be a part of a particular instance where God extended that common grace. In the two years since the Bloom software team won the Enabling Writer's prize, Bloom Workshops have been happening worldwide, providing books and reading materials in local minority languages in schools and libraries for children who otherwise wouldn't have any.  Thank you, loving Father!
Please pray with us:
–that any Wycliffe and SIL members who happen to be involved in these ongoing workshops will represent Jesus Christ well and have opportunities to share about God's saving grace.
–that we will be wise, open, and faithful witnesses of God's goodness and grace in our interactions with users of the Bloom software who are outside of our organization whether in person or via the internet.
–in giving thanks that God has currently provided for all of our financial needs.
–that we will have a safe and relaxing time as we visit John's mom and other family and friends in California.
–that the boys will have a good start to the school year later in August; Samuel and William will be at Berthoud High in 11th & 9th grades while Jesse and Daniel will be 7th graders at the middle school.
Thanks so much for being part of our support team in our work for Wycliffe through your prayers, gifts and love. May God's grace and goodness surround you!
In Christ,
John & Suzanne Hatton