Lutheran Family Services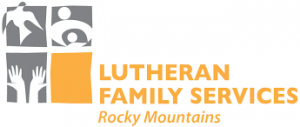 Happy Valentine's Day, and blessings on the beginning of this Lenten season!  Here are a few announcements for the coming months:
Each year in Colorado, thousands of kids are unable to live with their biological parents because of abuse or neglect.  We need families who can provide temporary care until children reunify with their parent as well as families willing to adopt children and teens in foster care if they can't return to their families.  An informal Q & A session for foster care will be held on Wednesday, March 14th from 12:30-1:30pm and from 5:30-6:30pm at the LFS Denver Metro office (363 S. Harlan Street, Suite 105, Denver, 80226). Please register with Anne at anne.hamilton@lfsrm.org or 303-217-5869. One-on-one meetings can also be arranged to work around your busy schedule.
Refugee Services will be hosting a fundraiser with Patxi's Pizzeria on Wednesday, March 28! 10% of all proceeds all day from their Patxi's Uptown location (1598 E. 17th Ave. Denver, CO 80218) will go to our programming. Join us to support refugee services in Denver and experience Patxi's tasty pizza through dine-in, take-out, or delivery!
Join us for the LFS 70th Anniversary Benefit Gala at the Cable Center on April 21st! We are delighted to announce that we will be presenting a video immersion event, which will allow guests to embark on a journey that leads them through the lives of LFS clients. The Gala will feature a night of dinner, entertainment, an auction, and companionship, along with celebrating 70 years of serving individuals and families in need in our community. Please register at www.LFSRM.org/events.
Katie Scherr
Church Relations and Development Assistant
Lutheran Family Services Rocky Mountains
Denver, CO 80226-3552
Direct Line: 720-541-6826
Main Office: 303-922-3433
Fax: 303-922-7335