Lutheran Family Services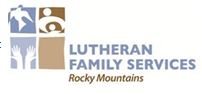 Lutheran Family Services December Announcements
Happy holiday season everyone! I hope you all are having a joyous Advent so far! Below are the announcements from LFS for this month:
1)      Join Lutheran Family Services Rocky Mountain as they ride to support their Pregnancy Support Program! LFS helps women and their families who are experiencing an unplanned pregnancy with resources and counseling. This fund is crucial in assisting new mothers who might not have the support of family and friends when they take their baby home from the hospital. Come join us on Jan. 7th at 12pm at Cyclebar (DTC, 7600 LANDMARK WAY, SUITE A-201, DENVER, CO 80111) for some fun exercise and yummy refreshments, all for this great cause ($25/ride). Flyer attached to this email.
2)      Every day there are children in need of a safe environment in Colorado and we need more people to commit to these children! Informational meetings for foster care in the Denver Metro area are on January 18th from 12:30-1:30pm and from 5:30-6:30pm at the LFS office: 363 S. Harlan Street, Suite 105, Denver, 80226. We hope to see you! Please contact Anne Hamilton for more information 303-217-5869.
3)      The Older Adult & Caregiver Services program at Lutheran Family Services Rocky Mountains is pleased to announce the "Ask Your Care Manager" monthly teleconference series will be continued into 2017.  We have updated our topics and are now including in-person offerings.  As always these informative conversations are free of charge.  Stay tuned for more information about the 2017 series or call us at 303-217-5864 or 970-232-1180.
Blythe Scott
Church Relations and Development Generalist
Lutheran Family Services Rocky Mountains