Lutheran Family Services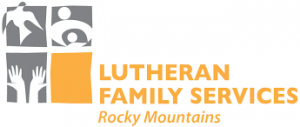 The Refugee & Asylee programs are in need of donations in order to provide for newly arriving families. We are not sure when they will arrive but we know there are a few large families in our pipeline that we want to be prepared for. Right now, our biggest needs are: new pillows, kitchen tables and chairs, couches (nothing big/bulky/heavy, no sectionals, or reclining couches), dressers (preferably tall and not long), and shower curtains with liners and rings. We greatly appreciate any and all donations so that we can help these families get on with their new lives here in the US! Contact Jenna Dolecek at 719-314-0737 or jenna.dolecek@lfsrm.org.
LFSRM VOLUNTEERS NEEDED! Do you have a passion for our mission or helping others? Are you, or know someone, needing to fulfill school community service hours? Would you like to attend fun and exciting LFSRM events for FREE?
Lutheran Family Services Rocky Mountains Development department is in need of a few volunteers who are friendly, reliable, and can volunteer from 2-4 hours per week at our Harlan office in Lakewood. Volunteers will have the flexibility to choose Tuesday, Wednesday, or Thursday between 9AM – 3 PM. Experience with computers preferred.
Your valued support will include simple computer data entry, special event prep, Microsoft Word/Excel projects, photocopying, folding/stuffing mailings and other tasks as needed. You will enjoy a safe and friendly working environment which includes free and easy parking, a dedicated desk, and a computer. You will also receive FREE admission to our special events that you help support!
Please contact Lisa Ricci at lisa.ricci@lfsrm.org or 303-217-5859 for more information.
Gala Committee Members Needed! In 2020 we're committed to being "Better Together" and will be hosting our Roaring 20's Gala at the Denver Botanic Gardens on May 15th, 2020. We hope to have a live band, teach the Charleston and have an amazing auction and speaker this year. Are you detail oriented and like to have fun planning parties and events? Come join our committee to help with event planning such as sponsor solicitation, auction item solicitation, decorations, brainstorming, set-up and tear-down and more! Contact Jessica Yoss at 720-541-6826 or Jessica.Yoss@lfsrm.org. Our first conference call is scheduled for December 18th and we need YOU!
Churches, we could really use your help in recruiting more foster families.  Please post the following announcement in your bulletin and/or on your website and social media.  Feel free to share the full list of meetings, but if you prefer to only share the meetings that are in your area, that is helpful as well.  Thank you!
Each year in Colorado, thousands of kids are unable to live with their biological parents because of abuse or neglect.  We need families who can provide temporary care until children reunify with their parent, as well as families willing to adopt children and teens if they can't return to their families.
Come find out if foster care is the right path for your family! No-cost, no-obligation, informational meetings are held throughout the Denver Metro area. You can find a list of our upcoming meetings on our website.  https://www.lfsrm.org/about-us/events/  Individual meetings that fit your schedule can also be arranged.  For more information contact Nicole Brown by phone at 303-217-5853 or by email nicole.brown@lfsrm.org