Lutheran Family Services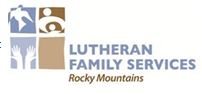 Lutheran Family Services Rocky Mountains February 2017 Announcements
1)      Needs arise in all of our program areas throughout the year.  Gift cards fill those needs at a moment's notice.  Grow a "gift card garden" to collect gift cards for LFS.  The stores we could really use gift cards from are: Target, Wal-Mart, Safeway, King Soopers and gas stations. Contact Evelyn Johnson at evelyn.johnson@lfsrm.org or 303.922.3433 if you have any questions.
2)      Silent Auction Donations Needed – Partner with Lutheran Family Services and donate an auction item to the Spring Benefit Gala (LFS' largest annual fundraiser). Individuals/groups are encouraged to put together a donation. Can you donate a gift basket, gift certificate, or item to help raise funds for our human service programs? All ideas and items are welcome! All contributions are tax deductible. Call Lauren Knudsen at 303.217.5860 if you have questions, to schedule a pick up or Mail to: Lutheran Family Services 363 S. Harlan St., Ste. 200 Denver, CO 80226
3)      Lutheran Family Services Rocky Mountains Older Adult & Caregiver Services offers free monthly telephone conferences to answer your questions about aging. The next teleconference is "Selecting a Senior Living Facility" and is on March 8, 2017, 12:00pm to 1:00pm MST. Registration is required at www.lfsrm.org/caregiver-services, or contact 303-217-5864 or 970-232-1180.
4)      Every day there are children in need of a safe environment in Colorado and we need more people to commit to these children! Informational meetings for Foster Care in the Denver Metro area are on March 8th from 12:30-1:30pm and from 5:30-6:30pm at the LFS office 363 S. Harlan Street, Suite 105, Denver, 80226. We hope to see you! Please contact Anne Hamilton for more information 303-217-5869.
Evelyn Johnson
Executive Administrative Assistant
Lutheran Family Services Rocky Mountains
363 S. Harlan St., Suite 200
Denver Co. 80226
303-922-3433
www.lfsrm.org