Lutheran Family Services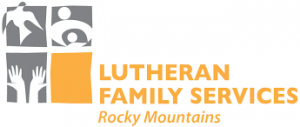 Each year in Colorado, thousands of kids are unable to live with their biological parents due to abuse or neglect.  We need families who can provide temporary care until children reunify with their parent, as well as families willing to adopt children and teens in foster care if they can't return to their families.  Informational meetings for foster carewill be on November 8 from 12:30-1:30pm and from 5:30-6:30pm at the LFS Denver Metro office (363 S. Harlan Street, Suite 105, Denver, 80226). Please register with Anne at anne.hamilton@lfsrm.org or 303-217-5869. One-on-one meetings can also be arranged to work around your busy schedule!
During the month of November, Older Adult & Caregiver Servicesis offering free memory screenings as part of the National Memory Screening Program, an initiative of Alzheimer's Foundation of America. Screenings are free, confidential and administered by qualified healthcare professionals. Each memory screening takes approximately 10 minutes, and while the result is not a diagnosis, it can suggest if someone should see a physician for a full evaluation.  Screenings will occur:
Monday, November 13 from 9:30am-4:00pm at the Bemis Public Library(6014 S Datura St, Littleton, CO 80120) – *Please call 303-217-5864to register for a screening time*
Wednesday, November 22 from 10:00am-2:00pm at the Arvada Library(7525 W. 57th Avenue, Arvada, CO 80002) – *Please call 303-217-5864to register for a screening time*
Open screening times(no appointments needed) every Thursday in November, except Thanksgiving, from 10:00am-12:00pm at Lutheran Family Services(363 S. Harlan Street, Suite 200, Denver, CO 80226)
Older Adult & Caregiver Services offers free in-person consults to discuss Advance Care Planning and Advance Directives, such as Medical Power of Attorney and Living Will. We can help you understand your options, insure that your legal documents reflect your medical wishes, and get your directives completed and notarized. Don't put it off. Contact our staff to schedule an appointment at 303-217-5864or 970-232-1180.
Do you want to get involved with refugeeson a personal level? We are looking for volunteers in our Cultural Mentoring and Exchange Program to work with a refugee family throughout their first 6 months in the country. Interested in learning more? Upcoming Refuge 101 & Volunteer Training sessions will be held November 14 from 6:30-8:00pm, November 11 from 9:00-10:30am, and November 28 from 6:30-8:00pm. For more information or to register, visit our website at www.refugeevolunteerdenver.org.
Katie Scherr
Church Relations and Development Assistant
Lutheran Family Services Rocky Mountains
Denver, CO 80226-3552
Direct Line: 720-541-6826
Main Office: 303-922-3433
Fax: 303-922-7335