Lutheran Family Services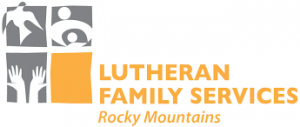 Announcements for September:
Every day there are children in Colorado in need of a safe environmentand we need more people to commit to these children! Informational meetings for foster care will be on September 13th from 12:30-1:30pm and from 5:30-6:30pm at the LFS Denver Metro office (363 S. Harlan Street, Suite 105, Denver, 80226). We hope to see you there! For more information, please contact Anne Hamilton at anne.hamilton@lfsrm.org or 303-217-5869.
Older Adult & Caregiver Services is offering an in-person presentation called Thriving at Home: The Benefits & Considerations of Aging in Place.Please join us on Monday, September 18 from 2:00-3:00pm at the Bemis Public Library (6014 S Datura Street) in Littleton where we will discuss the benefits of aging in place, and consider aspects of wellness, transportation, safety, home modifications, and finances needed to age in place successfully. This is a free, public event. Registration is requested: To register, or for questions, please contact our staff at 303-217-5864.
Older Adult & Caregiver Services offers free monthly telephone conferences to answer your questions about aging, called Ask Your Care Manager. Join us on September 13 from 12:00-1:00pm MST for a discussion on Planning for Life's "What Ifs?" Part 2: Understanding Advance Directives. Advance Directives, the written documents expressing your wishes for future health care, are vital to ensure your preferences are carried out in a medical crisis. In part two of the Advance Care Plan discussion, we will review the most commonly used Advance Directive forms and what to do with the documents once you complete them. Registration is required: sign up at www.lfsrm.org/programs-and-services/oacs/ask-care-manager/  or contact our staff at 303-217-5864 or 970-232-1180.
As always, please do let me know if you no longer wish to receive our monthly announcements or if there is an updated contact.  Thank you for your continued partnership!
Katie Scherr
Church Relations and Development Assistant
Lutheran Family Services Rocky Mountains
363 S. Harlan, Suite 200 Denver, CO 80226-3552
 Direct Line: 720-541-6826
Main Office: 303-922-3433
Fax: 303-922-7335