Please see "How Can I Serve Ministries & Organizations" (PDF) for the complete list >>
Habitat for Humanity/Miracle Workers
A faith-based coalition of 8 West Denver Metro churches who work alongside Habitat for Humanity to build homes, raise funds and awareness about the need for safe, decent, affordable housing in our community. For more information about how to physically or financially support this mission, contact Travis Andrews 720.546.5973
Head Start
A site for Jeffco Head Start is less than one mile south of Peace. This organization provides preschool education, family education, classes in transitions, English as a second language, and employment networking for hundreds in this part of Jefferson County. Peace volunteers at Head Start by providing Christmas gifts, maintenance help, and child or parent mentoring. To learn more how you could be involved, call the church office 303.424.4454
Reaching our community with Christ through structured missional communities intent on building relationships with neighbors and "doing life together". Families together (or singles) who make disciples who make disciples who make disciples! Contact Pastor Larry McGurer 303.902.6370.
Mission Support, short term, Coordinators
Several mission projects (international as well as local) are supported throughout the year at Peace as short term collections by the congregation, Sunday School, Bible classes and the Early Learning Center. Watch the weekly bulletin for the projects currently running and join in as you are able. Coordinator works with the Early Learning Center, Sunday School, VBS leadership, and adult Bible classes to promote, track and conclude each project. Contact Church Office 303.424.4454
Mission Trips
Peace assists to sponsor an adult work team once a year to a national or international spot to assist and to share the Gospel. Personal financial commitment is part of this experience. Some trips are meant to be adults only, others are designed as family mission trips. Contact DCE Bethany Wood 303.424.4454. [See also Mission Trips under Youth Ministry]
Peace Hospitality Team
• Greeters give a friendly welcome to those entering the building for worship and assist them in finding their way around the building.
• Information Center Attendants assist guests in learning more about Peace and providing printed and verbal information as well as directions.
• Parking Lot Attendants assist guests in maneuvering parking lot (parking on busy days) and getting up walkways/steps.
Contact Sheryl Hofmeister 303-424-4454
Radio Ministry
Funding is needed to continue the ministry of airing a 30-minute sermon weekly at 7:30 am on KHOW 630AM radio station. Contact: Cathy Pierson 303.279.0530
---
Community Service Agencies in the Denver metro area.
Serving our Lord outside the church walls. Following are just some of our many local services that rely on volunteers.
Alternatives Pregnancy Center – 303.298.8815
7 Offices serving Metro Denver www.YouHaveAlternatives.org
APC exists to care for those in pregnancy – related crises and offer a meaningful alternative to abortion. Volunteer training is available for client advocates, group facilitators, or 24-hour helpline. Prayer chain, office help, donation of maternity or baby clothes or cash gifts are also ways you can help. Peace Lutheran liaison is Christine Pearson, 443.758.7576 or lifegroups@peacelutheran.net
Arvada Community Food Bank – 303.424.6685
8555 West 57th Avenue, Arvada
Provides food for needy families in the Arvada area. Volunteers needed to stock shelves M-F 9 a.m.–Noon or assist families with food M-F Noon-4 p.m. Can use non-perishable food donations and cash donations. Can use volunteers for special projects: covering phones and data entry.
Build a Bear Workshops
Located in Shopping Centers at: Colorado Mills, Flatirons and Cherry Creek
Volunteers make a stuffed bear for $10 and donate the bears to the Arvada Children's Advocacy Center, Children's Hospital, a local hospital in our area, the local Police Department and/or Fire Department. You stuff the bear, place a heart and name certificate within them, and stitch them up.
Denver Rescue Mission – 303.294.0157
1130 Park Avenue West, Denver
Christian ministry to homeless men; providing shelter, clothing, food, medical, dental care, and a two-year program for completing a GED. The Crossing is a shelter for homeless families. Volunteers are needed to serve breakfast, lunch or dinner. Clothing, food, furniture & cash donations welcome.
Family Tree – 303.235.0630
1629 Simms Street, Lakewood; Gemini Shelter for Teens (ages 11-17)
Women in Crisis (Domestic violence shelter) – 303.420.6752
52 nd and Marshall, Arvada
Donations of food, clothing for women, children and babies are accepted. Volunteers are welcome.
Habitat for Humanity – 303.534.2929
1500 West 12th Avenue, Denver
Volunteers accomplish all levels of construction or renovation of homes for low-income families, working alongside the home recipients. Volunteers also assist at ReStore facilities. Donations of building materials are accepted at ReStore, 10625 North Frontage Road, Wheat Ridge.
The Action Center – 303.237.7704
8755 West 14th Avenue, Lakewood
Services: food bank, clothing bank, shelter, household and personal items, limited rent/utility assistance, tenant/landlord counseling, Santa Shop, school supplies, J-Help/Meals on Wheels and medical assistance to residents of Jefferson County. Donations of food, clothing, toilet/personal items, household necessities, bedding, small appliances and cash are accepted. Donations are accepted Monday, Tuesday, Wednesday and Friday from 8:30 a.m. until 4:30 p.m. On Thursdays, donations are accepted from 8:30 a.m. until 7:00 p.m. Volunteers can stock shelves at the Center.
Life Choices – 303.450.6363
10259 North Washington St., Thornton
Education, support and healing for sexual life choices. Offers free pregnancy tests, confidential support, maternity and baby supplies, resources, referrals, sexual lifestyle education and post abortion healing. Offices in Thornton, Loveland and Longmont.
Meals On Wheels (Volunteers of America) – 303.294.0111
2660 Larimer Street, Denver
Serve balanced pre-packaged meals to low-income residents in the Arvada area as well as the Denver metro area. Donations of food and finances are welcome; also meal delivery assistance.
Ralston House – 720.898.6745
10795 West 58th Avenue, Arvada
Children in Jefferson County that are victims of sexual abuse are helped via counseling, legal and law enforcement agencies. Can use games, toys and stuffed animals; i.e. Build-a-Bear
Save Our Youth Mentoring Project
3443 West 23rd Avenue, Denver
Invest in the life of one young person through the Save our Youth Mentoring Project. Training available. Build a life-changing relationship with an urban youth ages 10-16 requesting a mentor. For more information, please visit their website: http://www.saveouryouth.org/page.php
Seniors' Resource Center – 303.235.6941
3227 Chase Street, Wheat Ridge
SRC offers a limited supply of non-perishable food, rental and utilities assistance, support services, adult day care, transportation, in-home personal care, and employment opportunities. Donations of non-perishable food and cash are appreciated. Volunteers can assist with transportation to medical appointments, adult day centers, and meal sites; assist with household repairs, yard cleanup, etc.
Shannon's Hope (Address Confidential) – 303.480.5433
A Christian maternity home located in Arvada that houses expectant moms and small children until they are able to live independently. Volunteers are needed as mentors to the young women as well as maintenance assistance to the facility. Donations are also needed in the form of financial assistance, household items and children's toys and clothing.
St. Francis Center – 303.297.1576
2323 Curtis Street, Denver
Day Shelter for homeless individuals Volunteers can collect blankets, food and clothing. Volunteers also serve meals to the residents.
---
Habitat For Humanity Miracle Workers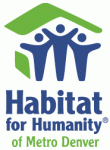 Habitat for Humanity Miracle Workers is a coalition made up of 5 Westside Lutheran Churches. Bethlehem, Holy Shepherd, Concordia, Peace Lutheran, and Lutheran Church of the Masters. We are in a partnership with Thrivent Builds and Habitat Metro Denver. Thrivent Financial is funding the 2011 partnership with a $10.4 million commitment to build 164 homes in 33 states and send up to 100 volunteer team to help build homes around the world.
Sign up for a volunteer day
Miracle Workers group for Habitat for Humanity
Habitat For Humanity of Metro Denver