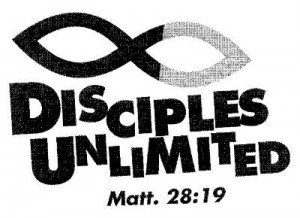 Disciples Unlimited (DU) is our Senior High ministry with youth in grades 9-12. We meet mainly on Wednesday evenings for Christian fellowship, service, and spiritual growth. We also meet Sunday mornings at 9:15 for community and growth in Christ. Check out our 2017-2018 DU Schedule. Friends are always welcome!

We focus on developing:
Identity grounded in our relationship with Jesus revealed in the Bible
Sensitivity to the Spirit of God at work in us and the world around us
Courage to live out our Christian faith in every context
Community where youth are welcomed, accepted, and safe to be who God made them to be
Contact our Director of Student Ministries (email or 303-424-4454 X25) for more information.
Summer Hangouts (Resumes Summer 2018) Every Wednesday night during the Summer! These are days to just have a good time in fellowship together, playing games and getting to know one another. It's a great time to invite your friends! 
TNT (Topic Night for Teens) Every Wednesday night during the school year! Dinner for $1 at 5:30 p.m. and then head downstairs for some Christ-centered conversation and fellowship from 6:00 – 7:30PM. Come be part of what we're talking about! (Meeting Aug 30, 2017 – May 16, 2018)
Upcoming Events
Oct 20-22 (new date!), 
DU is headed to
Lutheran Valley Retreat
for a weekend of outdoor fun in Pike National Forest, relational & spiritually deep Bible study, and fellowship! Cost is $75pp. Grab the details, including permission and a tentative schedule,
Here
! 
Please hand in the permission forms ASAP
Oct 24, 
DU is getting together to serve the disadvantaged with
Mean Street Ministry
in Lakewood. Meet at Peace at 5:30PM. This replaces TNT on Wednesday, Oct 25.
Oct 29, 
DU is hosting a Murder Mystery Dinner Theater from 5:30-8:00PM. Dinner included! RSVP by Oct 22! Grab more information and your RSVP forms
Here
! Friends and family welcome!
Nov 9-11,
DU is headed to
Concordia University
in Seward, NE, for a campus visit and fun together. Even if you don't intend to attend CUNE, come along for fellowship and fun in Christ! Get your permission form
Here
.
2018 DU Mission Trip Details
June 23-July 1, 2018,
DU is headed to Heart Butte in the Blackfeet Nation of Northern Montana with
YouthWorks
, and we'd love for you to join us! Our youth group is all about Christ-centered mission. While you can still be part of our community if you don't go on the mission trip, you'll miss something that's at the heart of DU if you don't go. Our whole year is a build up to this week in the summer. Interested? Some further details are:
Out of Pocket Cost: $350 for the 1st child in your family,
$275 for the second child
Registration Deadline: Passed – Contact our Director of Student Ministry at the church office (303-424-4454) if you're interested!
Going on the 2018 DU Mission Trip or plan to join us on mission with Christ in the future? Stay tuned for links on our 2017-2018 fundraisers!