ON HOLD DUE TO COVID RESTRICTIONS
Connections is established to provide in-depth study of God's Word for children, confirmands, youth and adults.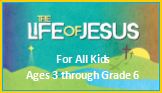 Meets Wednesdays September – April
6:00 – 7:00 p.m.
The components are:
Applying God's Word to practical, specific acts of service in the Church and world
Memory assignments give students a working knowledge of God's Word that will, with God's help, last a lifetime.
The study of Lutheran doctrine enables participants to better understand what God's Word is teaching and to discern false teachings.
Bible study skills allow students to better study God's Word on their own.
All of this is designed to help Christians of all ages learn to live a life of worship. Our regular schedule is:
5:20-5:55 Light Supper served (optional). Cost is $1 per person.
5:55-6:00 Video Sending
6:00-7:00 Kid's Club Connection (for ages 3 through Grade 6 & Confirmation for Grades 7-8
For any questions please contact Bethany Wood (email or call 303-424-4454)