Wednesday evenings we offer an opportunity to have a Midweek Connect. We have classes for 3 year olds through 6th graders. This is a time full of Digging Into God's Word. There are crafts, laughs, games, fun, and a whole lot of learning about the Heart of God. We would love to have you join us!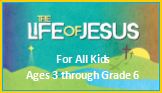 Meets Wednesdays September – April
6:00 – 7:00 p.m.
The components are:
Applying God's Word to practical, specific acts of service in the Church and world
Memory assignments give students a working knowledge of God's Word that will, with God's help, last a lifetime.
The study of Lutheran doctrine enables participants to better understand what God's Word is teaching and to discern false teachings.
Bible study skills allow students to better study God's Word on their own.
All of this is designed to help Christians of all ages learn to live a life of worship. Our regular schedule is:
5:30-5:55 Light Supper served (optional). Cost is $2 per person.
5:55-6:00 Video Sending
6:00-7:00
Midweek Connect (ages 3 years through 6th grade)
Confirmation for Grades 7-8
Adult Classes also available
For any questions please contact Lauren Von Rentzell  303.506.6112 (or call Church Office 303.424.4454)