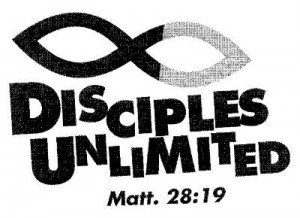 Disciples Unlimited (DU) is our Senior High ministry with youth in grades 9-12. We meet mainly on Wednesday evenings for Christian fellowship, service, and spiritual growth. We also meet Sunday mornings at 9:15 for community and growth in Christ. Grab our 2019-2020 Schedule here! Friends are always welcome!

We focus on developing:
Identity grounded in our relationship with Jesus revealed in the Bible
Sensitivity to the Spirit of God at work in us and the world around us
Courage to live out our Christian faith in every context
Community where youth are welcomed, accepted, and safe to be who God made them to be
Contact our church office 303-424-4454 for more information.
Sunday Bible Study meets at 9:15AM in the youth room year-round! Right now we're focusing on what Jesus did and what it tells us about Him!
TNT (Topic Night for Teens) Every Wednesday night during the school year! Dinner for $2 at 5:30 p.m. and then head downstairs for some Christ-centered conversation and fellowship from 6:00 – 7:30PM. Come be part of what we're talking about! Aug 28, 2019 – May 10, 2020
Summer Hangouts Every Wednesday night during the Summer, 6-8PM! These are days to just have a good time in fellowship together, playing games and getting to know one another. It's a great time to invite your friends! Resumes June 3, 2020
Upcoming Events
Dec 4, 11, & 18 TNT will start around 6:45PM, immediately following our Family Advent Worship in the Community Room. We'll play games and share life, celebrating the birth of Jesus and the promise of His return someday! After that, there will be no more TNT until the new year! Merry Christmas!
2020 Summer Mission Trip
This summer, June 27 – July 4, 2020, we are headed to Atlanta, GA, with
LeaderTreks
. According to LeaderTreks, "The Atlanta metropolitan area is home to almost 6 million people, making it the ninth largest city in the United States. The city saw rapid development in preparation for the Olympic Games in 1996, spurring manufacturing job growth across the area. While this helped develop large sections of the city, Atlanta is still home to poverty and underserved neighborhoods." With local mission organizations and LeaderTreks, DU will reach out to these neighborhoods with urban renewal assistance and relational ministry to the local children. Interested in joining us?
Read the Disciples Unlimited Mission Trip Informational Handbook Here
Register by October 2 by handing in your Registration Card and $100 initial deposit to the church office (Checks to "Peace Lutheran Church")
Attend Disciples Unlimited Activities throughout the year to get to know your fellow missionaries
Work fundraisers side-by-side with other teens, their families, and their adult mentors (Details below!)
Call our Director of Discipleship at (303) 424-4454 with questions!
Thank you for the financial support and prayers for our youth at the 2019 LCMS National Youth Gathering in Minneapolis, MN, this past July 2019. Here's a video sharing some of our experiences there!
Fundraisers
Planning on going on mission with us in the future? Sign up for our fundraisers here!
Monthly Breakfast Burrito Sale – Every Second Sunday (burritos made the Wednesday before at the end of TNT)
Trivia Night – Nov 1, 2019
Super Subs Sale – Jan 31-Feb 2, 2020
Dessert Theater and Silent Auction – Coming again Mar 14 & 15, 2020!
Bring any beverage cans to the West Side of the church in a durable plastic bag and throw them into the wooden-fence enclosure. We'll recycle them and make a few bucks for student missions!
Do you shop at King Soopers? Register your King Soopers Member card with Community Rewards and pick "Peace Lutheran Church" as your organization to support. 5% of everything you spend at King Soopers goes to Peace to support high school missions! Thanks in advance!