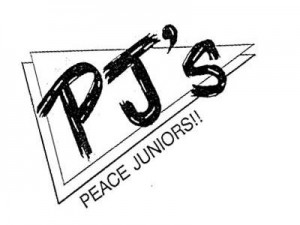 Peace Juniors (PJ's) is our Jr. High ministry with youth in grades 7 and 8, including Confirmation as our Wednesday night youth group for PJs. We also meet Sunday mornings at 9:15 for community and growth in Christ. Check out our 2018-2019 PJ Schedule for details.

It is:
A time to meet new friends and get to know old friends even better
A time to have a lot of fun
A time to get to know our best friend – Jesus – a little better
An exciting time with lots of different activities…some at church and some away from church
A time to share your faith with others
Contact our Director of Student Ministries (rfurr@peacelutheran.net or 303-424-4454 X25) for more information.
Confirmation Every Wednesday from 6-7PM during the school year! Dinner for $1 at 5:30 p.m. and then head downstairs for some Christ-centered conversation and fellowship! You don't have to be getting Confirmed to join in! Want to get Confirmed in the Lutheran Church? Checkout the link above!
Junior Bells Every Wednesday from 7-7:30PM with our Director of Children's Ministry, Lisa Lindeman! Contact her for more information!
Upcoming  Events
Nov 14, stay after Confirmation to join our high schoolers in an all-church game of Romans and Christians! It's a ton of fun and really popular among our youth! We'll be done by 8:30PM! Wear clothes you can run and hide in!
Nov 21, no Confirmation! Enjoy the evening with your family at Thanksgiving Worship & Pie Social at Peace!
Nov 28, is our PJ Christmas Party! All 7th & 8th graders are invited! We'll go until 7:30PM! Be prepared for Christmas Games and some delicious snacks!