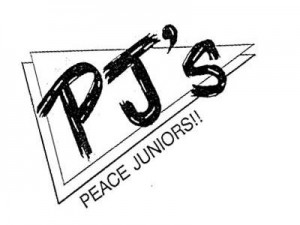 Peace Juniors (PJ's) is our Jr. High ministry with youth in grades 7 and 8, including Confirmation as our Wednesday night youth group for PJs. Check out our PJ Schedule Apr-Sept 2018 for details.

It is:
A time to meet new friends and get to know old friends even better
A time to have a lot of fun
A time to get to know our best friend – Jesus – a little better
An exciting time with lots of different activities…some at church and some away from church
A time to share your faith with others
Contact our Director of Student Ministries (rfurr@peacelutheran.net or 303-424-4454 X25) for more information.
Upcoming  Events
PJ Confirmation is over for the summer! Stay tuned for fun fellowship events for our new 7th & 8th graders!
Aug 5, we are headed to the American Paintball Coliseum for an afternoon of laser tag! Meet at the Peace Cafe at noon. We'll head out for a quick lunch and then two hours of laser tag. Plan to be back at Peace by 4:30PM. Cost is $22 per person, plus food for lunch. Grab your permission forms Here! Please hand them in by August 1 so we can book our time slot!
Sep 5, is our PJ Confirmation kickoff! At Peace, we believe strongly in equipping teenagers to live a lifelong walk with Jesus Christ! A big part of that is through Confirmation, where they learn the ins-and-outs of what it means to be a Lutheran Christian and to live a life committed to Jesus Christ! So we're inviting ALL 7th and 8th grade students and their parents to Confirmation Kickoff at 6PM at Peace in classrooms B-1 & B-2 downstairs! Find out what our junior high ministry is all about! Not sure your student wants to be confirmed as an LCMS Christian? No problem! Come anyway! Even if your student is not going to confirm, they are still invited to grow in their faith and have fun in our junior high ministry! Want to know more? Check out our Confirmation page!
Sep 7-9, Mark your calendars for our annual fall retreat to Lutheran Valley Retreat in the middle of Pike National Forest outside Divide, CO! This is a required component of Confirmation, but all 7th and 8th graders are more than welcome and strongly encouraged to come! It's a great bonding experience for the junior high youth and makes a huge impact in their walk with Jesus! Permission forms coming soon!